As we compose this newsletter, it seems like it is one that is full of notices. Our 2006 Women Saints Calendar: Women Who Have Lost Children is still available. Like our 2005 Women Saints Calendar, it is full of information on many women saints and, in part, shows us how God works in all places at all times with all of His children.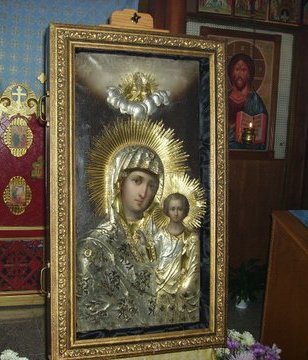 At the end of this newsletter, you will find a notice regarding the IRS letters for 2005 donations that we mailed recently. So if you have not received an IRS letter from us, please contact us. Prices have gone up on candle-making supplies; therefore, starting March 1, 2006, our beeswax candles will be $8 per pound. Last, but definitely not least, the last quarter showed a marked increase in the Monastery Building Fund, for which we are very grateful.
Turning to something more spiritual, the wonderworking icon, Our Lady of Sitka, Alaska, was taken from church to church in the lower forty-eight. One stop was Holy Apostles Orthodox Church in West Columbia, South Carolina, on October 26th. Along with many people from the surrounding area, we were greatly blessed to be able to attend the Akathist Service and to venerate this incredibly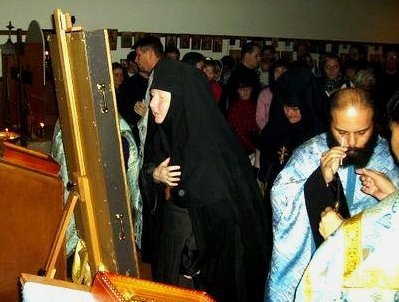 beautiful icon through which so many miracles have been and continue to be wrought. Most evident in this icon is the purity of her love and compassion for all of us which, in turn, gives us a primary example of the love and compassion we should have for each other and for Christ, her son.
On October 22
nd
, we made our biannual trip to the Barnyard Flea Market in West Columbia. Due to the generous donations of many, we had much to sell and were able to realize $411 for the building fund, most of which was earned in $1 or less increments. Since we had so much left over, a few weeks later, we decided to rent two tables at the Springfield Flea Market, the oldest flea market in South Carolina. That day brought in $65 which also went into our building fund.
As part of being in the Master Gardener Program in Aiken County, Mother Thecla was able to participate in a field trip to Carter and Holmes Orchids near Newberry, South Carolina on November 9th. We were given a tour of some of their many greenhouses. Two of these greenhouses were crowded with specimen plants from many parts of the world. There were orchids in many shapes and color combinations that were both familiar and exotic. It was a true feast for the eyes and food for the soul. At the end of the tour, we were given a box to hold the plants that we wanted to purchase. Having never grown an orchid, Mother Thecla found one orchid in a two-inch pot that she really wanted to try her hand at growing. Other Master Gardeners kept asking her how many orchids she had. With a glint in her eye, Mother Thecla responded, "Counting the one in the box, one." After purchasing this orchid and some fir bark (yes, orchids know the difference between bark and soil), she returned to the monastery and planted it in an orchid pot (a terra cotta pot with open slits in the side). It is still living and growing.
After giving thanks to God at Liturgy on Thanksgiving morning served by Hieromonk Joshua Anna, we celebrated this holiday in which our nation takes time to turn their minds and hearts toward God and say "Thank you." We enjoyed celebrating the remembrance of God and His many blessings to us with the company of a number of friends. One of the main elements of our daily prayers is to thank God for His great bounty to us in His immeasurable love for us, as we do not perceive how much He has truly bestowed on us.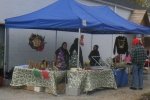 This is the third year that we have participated in the St. Nicholas Festival held by Holy Apostles Orthodox Church in West Columbia, South Carolina. We brought our beeswax candles, gift and Christmas items, and jewelry to sell. Throughout the day, people kept noticing the jewelry, saying that we had some really nice pieces and wanting to know why nuns were selling jewelry. Well, a few years ago, a friend of the monastery wanted to help us raise money for our building fund, so she donated and continues to donate jewelry and even display items. She has been teaching Mother Thecla what to look for and how to price the different pieces of jewelry that we receive. Since then, many other women who have very different tastes have donated jewelry for us to sell and the proceeds go to the building fund. This was the first year that we brought jewelry to sell, and it did very well. It wasn't anything that we ever expected or requested, it simply grew out of the talent of a friend.
Like November, December was a month full of visitors which culminated in the Feast of the Nativity of our Lord, Jesus Christ. As always, the joy of celebrating the Incarnation of God through Royal Hours, Vesperal Liturgy, Matins and Compline, and then Liturgy on Christmas Day was spiritually filling. Added to this joy were the many friends who joined us for Christmas dinner and fellowship. Both Thanksgiving and Christmas remind us that there is always room at God's table for all of His children. Somehow, He always makes it so.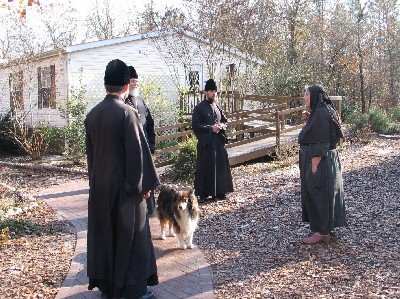 On the Wednesday of the week of Theophany, we enjoyed being visited by the monks of The Protection of the Most Holy Theotokos Monastery located in Weaverville, North Carolina. After some conversation over lunch, Mother Helena took them on a tour of our monastery. The first picture is at the back of our doublewide, and the second is at Saint Joseph's Candle Shop. We shared our knowledge of wine making, general gardening, and building ideas and simply got acquainted as fellow monastics. Before they left, we prayed Vespers together. Someday soon, we hope to visit their monastery.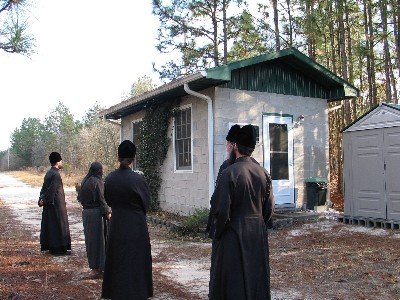 Each year between Theophany (the Feastday celebrating the Baptism of Christ) and the beginning of Lent, Orthodox priests visit their parishioners and bless their homes. This year, Hieromonk James Bohlman, our spiritual father, blessed our monastery home on January 10
th
. All of us had a good laugh as Fr. James successfully deployed a shower of holy water on sleeping Arnora (AKA Fraulein Schnitte), our grey and white cat.
Before we could write this newsletter, our monitor started going out on us. That's when the screen looks like little dots moving about, thus giving the viewer a mega headache. Thinking that something could be done to fix it, we called one of our computer savvy friends who informed us that the monitor was on its way out. Now, we have a new monitor and, as you can see, completed writing this newsletter. At the time of this printing, we are also preparing for the Young Adult Retreat at the end of January, which you will read about in our next newsletter.
Please continue to pray for us that God will give us the strength and wisdom and love to continue the work that He gives us and that it will bear good fruit as one of the branches of the True Vine, Jesus the Christ.