We greatly enjoyed seeing old friends and meeting new ones and wished that we had more time to spend with them.
The following Thursday found Mother Thecla at the Hydrangea Seminar in Georgia. Those of you who are avid gardeners know that hydrangeas are spectacular beauties in many a garden. With newfound knowledge, hydrangeas along with many other plants are gracing our gardens, which, after nine years are maturing nicely and showing off their God given magnificence that we will never truly perceive nor completely appreciate.
As always we make the best of the three feastdays of Saints Mary and Martha of Bethany: 1) Lazarus Saturday, 2) Myrrhbearers Sunday, and 3) June 4th Fr. Peter and Jeannie Batkis made June 4th special for us. Fr. Peter graciously served Liturgy that morning.
Although we were busy making the reservations at Camp Gravatt Ropes Course and getting Youth Retreat forms out to the various Orthodox Churches in South Carolina and the surrounding states during the sixth week of Lent, we prayed that this information arrived in plenty of time for the teens in these churches to make plans to attend.
This year we divided the teens into two retreat groups. The first was Saints Moses and Miriam Youth Retreat, June 15-18. Sixteen 12 to 14 year olds attended. Fr. Peter Smith of Saint Mary of Egypt Orthodox Church in Atlanta, Georgia, and Fr. Stephen Freeman of St. Anne Orthodox Church in Oakridge, Tennessee, led the retreat. Kristina Baktis directed the craft project. Bret Barnard helped with chaperoning the boys. Of course we chaperoned the girls and were the general "cooks and bottle washers".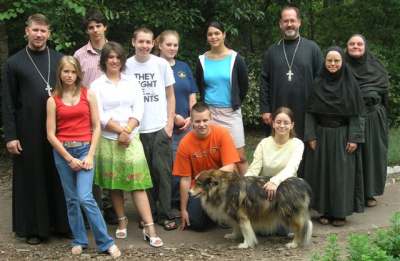 The following Wednesday, we welcomed eight 15 to 17 year olds to the Saints Niketas and Eleni Youth Retreat. Fr. John Parker from Holy Ascension Orthodox Mission in Mount Pleasant, South Carolina, and Fr. David Arnold from Saint Cyprian of Carthage Mission in Richmond, Virginia, led this retreat.
Participants in both youth groups enjoyed the learning sessions with the priests, the ropes course on Friday, and the making of a diptych as their craft. Mostly, they enjoyed being with other Orthodox Christians their own age.
Each year we enjoy seeing the growth in the teens who return and greeting the newcomers. In the seven years that we have been hosting these youth retreats, we have found that it is good for them to get together and talk about their difficulties of being an Orthodox Christian in a non-Orthodox surrounding. Many of them keep up with each other from year to year and form friendships.
On the weekend of June 25th and 26th, Holy Apostles Orthodox Church in West Columbia, South Carolina, celebrated its 25th Anniversary. We were grateful to be with them for this celebration, to see old friends, and especially to see Archbishop Dmitri again.
Over many months, Mother Seraphima researched the lives of many women saints who lost children and wrote thirteen brief accounts of their lives. Then James Seraphim Shealy, a member of Holy Apostles Orthodox Church, in West Columbia, South Carolina, graciously agreed to do the artwork for each month as well as the front cover. As all things go, June was the "crunch time" for it to be taken to the printer, proof read, and printed. Our 2006 Women Saints Calendar on Women Who Lost Children is now available.
With the All-American Council meeting in Toronto this month, we have had to make preparation "betwixt and between" everything else that has happened. Mother Helena conscientiously and methodically filled out the reams of paper work so Mother Thecla and Mother Seraphima can take the monastery's "dog and pony show" to Canada and return.
All this as well as our regular prayer and work schedule have kept us truly busy. Saying "Yes" to doing God's will leads us to places and deeds we never dreamed of, challenges us on all fronts, and allows us to learn a little about the greatness of His love and mercy. Please pray that God will send us women who are earnestly seeking the monastic life.
Since our last newsletter we have celebrated the joyous feasts of Pascha, Bright Week, Ascension and Pentecost. We have put away the Lenten Triodion and the Pentecostarion for another year and we return to "ordinary time". Have we been renewed by the feasts? Are we ready and able to immerse ourselves in this time after Pentecost?
The world around us is into summer vacations, relaxing and having fun. Do we join in the fun and leave out the Lord? Our good God needs to be the central focus of our lives. Our days need to start with Him - however long or short, prayer, conversing with God, is how to begin our day, even vacation days. He is always with us and is willing to listen and to help us make the right choices.
Each of our days is filled with activity and responsibilities, but remembering the Lord's presence with and in us and in each person we encounter can make our days more peaceful and joyous. Let us persevere in prayer - in praising our Triune God who loves us so much that He became man to save us and sent His Spirit to dwell in us.
This time after Pentecost is filled with the life and teachings of Jesus and the gift of His Spirit. May we praise and glorify the Giver and graciously accept His gifts, sharing them with each other.
Celtic landscapes have a way of stirring the human heart with their majesty and grandeur. They bring to mind the courageous and extremely self-sufficient saints who abandoned everything for a life of solitude and prayer in isolated, even treacherous, environs. These saints, by their holy and unconventional lives, conferred peace upon the land and the creatures because they had been liberated, at least in part, from their fallen human nature. As the Apostle Paul succinctly states: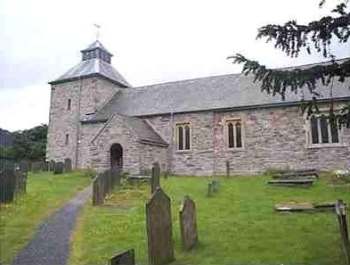 Church of Pennant Melangell
"For the creation waits with eager longing for the revealing of the children of God... because the creation itself will be set free from its bondage to decay and obtain the glorious liberty of the children of God." (Romans 8:19,21) St. Melangell (pronounced Mel-en-geth) is one of these saints who achieved such liberty. Through her consecrated life, she helped free the people and creation in the vicinity of her struggle to attain their supreme status of beauty and completion in God.
Although the major life of St. Melangell was not written until the fifteenth century, it is likely that her cult flourished long before a life was written about her, so great was the esteem with which she was held by the local populace. The actual era and lineage of St. Melangell are disputed. However, even in the misty shadows of her Irish and/or Welsh genealogy, it is certain that she was of royal or noble lineage and, thus, was expected to marry. In response to God's call to a life of prayer and solitude, St. Melangell renounced her royal status for the religious life. Overlooking her boldness, her father insisted that she marry. Desiring above all things to be devoted to God alone, she fled Ireland around 590 and settled in Pennant, one of the most lonely and lovely areas of Montgomeryshire (present-day Powys), at the head of the Tanant Valley in Northern Wales. In this spot, which came to be called "Pennant Melangell", sleeping on bare rock with a cave as her cell, she lived a hidden life of prayer for almost fifteen years.
Around 604, St. Melangell was "discovered" by the Welsh Prince of Pengwern Powys, Brochfael Ysgithrog, while he was hunting in the area around Pennant2.

As his hounds pursued their prey, the frightened hare ran into a bramble thicket for safety. Searching for the hare in the thicket, the Prince unexpectedly found St. Melangell.

She was deep in prayer and had not heard the dogs or the horn or the sound of human footsteps. The breathless hare had hidden itself in the folds of her garment and peered out at the fierce hounds, trusting in its holy protectress. Prince Brochfael signaled the dogs to snatch the hare, but they dared not approach the saint nor would they kill the hare. Aware now of the situation, St. Melangell bravely drove the hounds back.
The Prince had never experienced anything like this before. He was utterly amazed and cautiously approached the anchoress for an explanation. After hearing her story, Prince Brochfael, deeply moved by St. Melangell's beauty, purity and love for God, had no choice but to acknowledge her sanctity. Nonetheless, he suggested that she leave her solitude and be wedded to him, but she adamantly refused. Impressed by her sanctity and determination, he donated a parcel of land, which included a churchyard and valley, to be used by her to found a monastery. The Prince expressed his fervent wish that the area be dedicated to the service of God. He also requested that the land be a place of refuge for people and animals, in particular the hares she had befriended long before the encounter with Prince Brochfael.
St. Melangell is reputed to have lived some thirty-seven years after the hunting incident. The area did indeed become a sanctuary under the anchoress' guardianship. During her life, no animal was ever killed on her land. A known haven of safety not just for hares, but for all creatures, even wild animals living in the area became tame.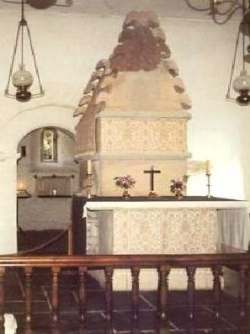 Shrine of St. Melangell
Humans, too, sought asylum from persecution, confident that neither prince nor chieftain would set foot upon Pennant Melangell in an attempt to violently seize them or demand unjust tribute. In time, St. Melangell became abbess of a community of virgins who had been drawn to her holy example, seeking their freedom as daughters of God.
The Church of Pennant Melangell is located near Llangynog in Powys. From its first foundation in the seventh century, it was a regular place of worship for the local farming community. For centuries no one would kill a hare in the church or vicinity of Pennant Melangell. Also, if anyone shouted at a hunted hare "God and Melangell be with thee", it was sure to escape. To this day, in honor of the saint, the hares are respected by the local hunters and are never harmed. After her death, St. Melangell became the tutelary saint of hares. Today, she is recognized as the Celtic patroness of animals and of the natural environment.
Through her resolve to maintain her spiritual focus at any cost, St. Melangell reached a life of "glorious liberty" in which she truly participated as a daughter of God. Local tradition holds that St. Melangell was specially called by the Lord Himself to restore the Pennant Valley to Paradise. Hence, her very presence imbued the land, creatures and people with joy, peace and security. Her community imitated and memorialized her life, bequeathing the essence of sanctity to the area forever.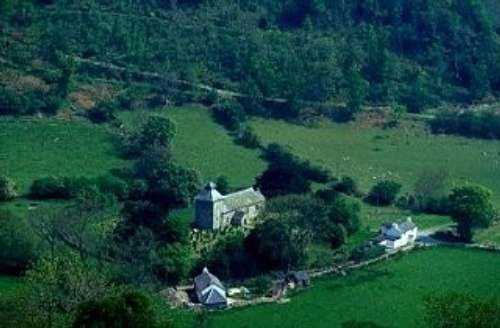 Church of Pennant Melangell
at the head of the lush green Tenant Valley