. . . that said, with fear and trembling the executioner struck off her head.
Born into a prominent family of Antioch of Pisidia in Asia Minor, Marina's mother died a few days after giving her birth. Aidesios, her father and a priest of the local gods, was compelled to find a wet nurse to care for and raise his daughter. Unknowingly, Aidesios employed a Christian woman who dwelt in a secluded Christian community about one and three-quarter miles outside the city. This took place toward the end of the third century.
Throughout her young life, Marina was nurtured on the Gospel of Christ Whose teachings took deep and firm root within her and Whose love and sacrifice she endeavored with all her being to imitate. Growing up at a time when Christianity was considered a threat to the Roman Empire and greatly persecuted, she admired the Christian martyrs and prayed earnestly that she also would be made worthy to suffer martyrdom for Christ. Openly and with great fervor, she confessed herself to be a Christian. When Aidesios learned that his daughter was a Christian, he spurned her utterly, refusing even to look at her and completely disowning her. Preferring Christ above all, Marina rejoiced knowing that this was part of her martyrdom.
Growing in beauty as well as faith, at fifteen, Marina was tending sheep with others from her community when the Imperial Governor Olymbrios passed by, became infatuated with her beauty, and immediately sought to marry her. Bringing his entourage to a halt, Olymbrios asked the maiden her name, family, and faith. Upon learning that Marina was a Christian, Olymbrios, who had recently started persecuting Christians again, endeavored to dissuade Marina by flattery and promises of a luxurious life. Finding Marina unimpressed with his words, Olymbrios threatened her with numerous and heinous tortures. To his astonishment and that of those present, Marina, while constantly praying, remained resolute in her confession of Jesus Christ as her Lord and Savior and unhesitatingly proclaimed that there was nothing he could do to separate her from the love of Christ. Enraged, Olymbrios ordered his guard to escort her to Antioch of Pisidia and cast her into prison.
Having continued in prayer throughout the night, the following day Marina was brought before the entire city who had gathered for a pagan festival. With clamorous exclamations, the crowd urged her to offer sacrifice to their gods and save herself. Olymbrios, disguising his seething anger and holding out hope that she would denounce Christ and sacrifice to their gods, slyly tempted her with his promise to marry her and bestow upon her many riches, thus making her a woman of great envy. Rejecting his proposal and offer of earthly riches, Marina fervently asserted that eternal life with Christ far outweighed temporal earthly life. Unreservedly, she spoke to the assembly of the sacrifice that Christ made out of His love for all mankind. At length, she proclaimed His life, crucifixion, death, burial, and resurrection. Out of love for His love, she declared that she would gladly be martyred for Christ.
Infuriated, Olymbrios directed his soldiers to strip her and beat her with thorny rods. This they did mercilessly for a long time until the ground around her was red with her blood and her beauty was greatly disfigured. All the while, Marina glorified God and thanked Him for counting her worthy to endure such sufferings. During this trial, the Archangel Michael appeared to her saying, "Great is your faith, Marina. Have more strength, for it is by your good confession that your soul will survive, and you will gain holy baptism." It was Marina's great hope that she would be baptized before her death.
Ordering the beating to cease before she died, the Governor instructed his men to throw Marina back into prison without water or food. While she continued to pray and praise the Triune God, Michael the Archangel appeared to her for a second time, gave her comfort, and healed her so that her flesh was whole again. A few days later, Olymbrios, thinking that this delicate, young maiden would be ready to recant her faith, had her brought before him and citizens of the city. Upon seeing her whole, he accused her of being a magician. Denying this charge, Marina, more vehemently than ever, professed herself as a follower of Jesus Christ and that his idols were false and helpless. At these words, Olymbrios became enraged and commanded that she be striped, suspended by the wrists, and raked with iron nails till her flesh was peeling away. Even Olymbrios had to hide his face from such a horrific sight. When he thought she was dead, he ordered his soldiers to return her body to prison to let it rot there. However, she was not dead. Again, the Archangel Michael appeared to Marina, strengthened her, repeated his encouraging words, and made the sign of the cross over her, thus healing her completely.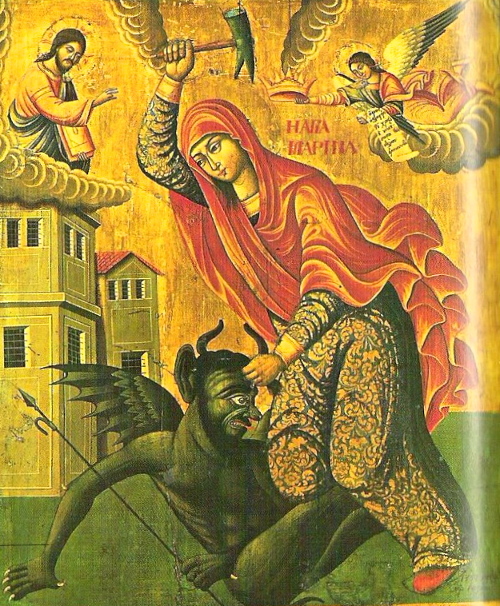 Testing her resolve even further, that night the evil one appeared to Marina as a threatening and terrifying dragon who rushed at her and swallowed her up to her waist. With much prayer and faith, Marina made the sign of the cross over his belly. At this, the dragon's belly split open, and he disappeared. Unable to endure her continuous praises and prayers offered to the one, true God, the man-hating, evil one manifested himself in coal black, demonic form, and, with a menacing and thunderous voice, strove to frighten her into renouncing her faith in Christ. Finding a hammer, with God-given strength Marina grabbed the demon by the hair, struck him mightily on the head and back, and subdued him.
The following day the people were assembled again. The demented Olymbrios ordered his soldiers to bind Marina to a pole and inflict burns all over her body. Remaining immersed in prayer, this she endured for many hours. Afterward, a great cauldron was brought in and filled with water. Fettering this great martyr to a movable pole, they prepared to cast her headlong into the water hoping to drown her. Marina perceived this to be her longed-for baptism. Upon being thrust into the water, an earthquake occurred, her bonds were loosed, and, for a third time, she was healed of all her wounds. Marina emerged from the cauldron of water and greatly praised God for His surpassing goodness and thanked Him for her baptism. At the same time, a fiery column appeared with a cross atop, and a dove, carrying a golden crown in its beak, lighted on her head. Amazed, the crowd heard a voice from heaven saying, "Peace to thee, O handmaiden of God. Take courage, and receive from the right hand of the Most High this heavenly crown."
A multitude of those who witnessed these events, cursed the emperor and Olymbrios, renounced their gods, professed their faith in Christ, and proclaimed their readiness to die for Him. Demanding that Roman peace be enforced, Olymbrios had them beheaded, to which they submitted willingly. Fearing that more would convert to Christianity, the Governor ordered Marina led to the execution block and beheaded. The executioner who had witnessed all these events did not dare raise his sword against her. The virgin and great martyr Marina prompted him, saying, "Finish what you have been commanded to do." That said, with fear and trembling the executioner struck off her head.