For this last repair, we were blessed to have Tyler choose this monastery to fulfil his high school's requirement to do fifteen hours of community service before his senior year. Discovering that he enjoyed construction, he worked with Greg to repair the Hermitage and the Red Shed.
At the end of January, Mother Thecla gave three short talks -- "Living the Christian Life in the 21st Century", "Theophany", and this monastery -- to a group of parishioners at Holy Transfiguration Orthodox Church, in Morrisville (near Raleigh), North Carolina.
Due to so much illness this winter, only three knitters were able to attend the Knitters Retreat - a small, but talented group.
Eighteen Ethiopian Coptic Christians from Saint George Mission in West Columbia blessed us with their presence at Liturgy here on March 7th and stayed to visit. We learned that their bishop had declared a week of prayer and fasting to specifically ask God to help their fellow Christians who are being persecuted and martyred. This was shortly after the 21 Christian men were martyred by the sea shore in Libya.
Many people realize that the upkeep of the monastery grounds and buildings is a mammoth task and offer to help us. Usually it is one or two people at a time who assist. In mid-February, a group of women from Saint Maria of Paris Orthodox Mission in Cleveland, Tennessee, achieved a phenomenal amount of work in helping us prepare for our Pilgrimage.
For the third time, Liturgy was celebrated in the big chapel on April 25th which was the day of our Pilgrimage. 45 people attended. Fr. John Parker from Holy Ascension in Mount Pleasant and Fr. Alexis Baldwin from Holy Resurrection in North Augusta concelebrated Liturgy.
Much of May was spent reorganizing our warehouse so we could add the items that were stored in a friend's garage. She had put her house up for sale before our Pilgrimage and was expecting it to sell within four to six weeks which it did. Again, we could not have completed this task if we had not had help from some friends and their relatives.
May was an incredibly busy and tiring month. On May 2nd, Mother Thecla gave a talk on Saints Mary and Martha of Bethany to the women's group of the United Methodist Church in Wagener.
With help from three friends, we sold items at the Barnyard Flea Market. Due to a low turn-out, we only made $199.15 for the Building Fund.
Robert Seraphim Lindsay from Holy Apostles in West Columbia was buried next to his wife, Evelyn, on May 13. Ganna Anikyeyeve from Saint Basil the Great Orthodox Church in Wilmington, North Carolina, was buried here on May 22.
We attended a Flock Blessing at the Floyd's home on the afternoon of May 24th. It was a joy to hear the prayer asking God to bless the sheep, goats, geese, and chickens and to see the animals receive a sprinkling of holy water. This was a first for all of us and reminded us that animals are important to our well-being.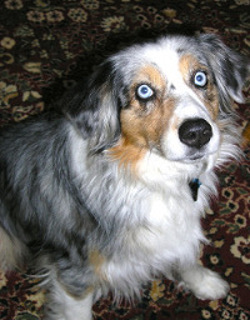 Knowing something was wrong with Lady, our Australian Shepherd, we took her to the veterinarian on May 22nd. The vet noticed that her pupils were different sizes which indicates a brain tumor. Lady died a week later. It has been difficult to loose three dogs within fourteen months.
One of the female ducks produce two ducklings, one of which was probably pick off by a hawk. None of the other hens had any ducklings this year.
During the fourth week of June, a small group of Orthodox Christian women, who were a part of a larger group of Christian Women striving to be Christian mothers, held a retreat here.
On July 2nd, Fr. Thomas Moore brought Mother Nectaria, the international editor of the magazine Road to Emmaus. It was a pleasure to meet her, hear about some of the people and places she had been to, and to show her what God has done here.