In time, Euphrosyne was joined by her sister, Gradislava (Eudokia in the monastic life) and other young, aristocratic women most of whom were related to her. One of the most notable women who brought all her wealth to the monastery was Zvenislava, a princess of Borisov. Upon being fully professed, Zvenislava was given the name Eupraxia. Euphrosyne became the spiritual mother and abbess of this growing number of nuns.
An angel appeared to Euphrosyne, instructed her to build a monastery for virgins, and showed her where it was to be built. Bishop Elias of Polotsk also had the same experience, whereupon, he gave her the land to build the Monastery and the Church of the Transfiguration (c. 1150). (It still stands to this day and is considered the finest example of Polotsk architecture of the twelfth century.)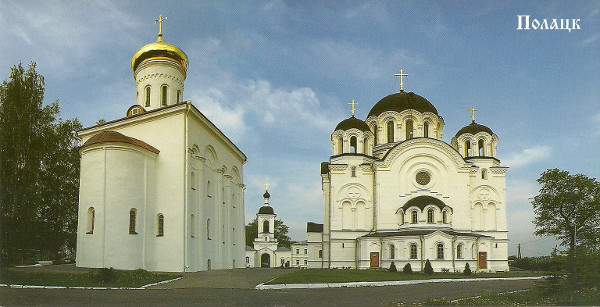 Later the Abbess Euphrosyne had a church and monastery for men built, and bestowed upon it the Hodigitria of Polotsk (Our Lady of Korsun) icon that had been given to her by Emperor Manuel I & Patriarch Michael II when she visited Constantinople. (This icon was a hand-painted reproduction of the original icon painted by Saint Luke the Evangelist.) Bishop Elias entrusted Euphrosyne with the task of founding and organizing women's monasteries, one of which was in Seltse (now in present day Russia).