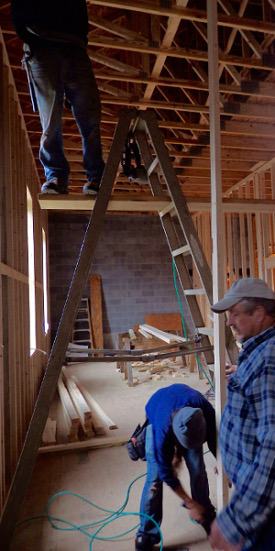 This newsletter is so late, that all of you need an explanation. The writer of this newsletter has been experiencing what is called diabetic macular degeneration for some time and is currently undergoing treatment which now enables her to read and write again. We are most heartened by those of you who have commented on our building project and ask when they will receive the next newsletter.
The progress on the building has come to a crawl as we save up to pay for the next step which is proving to be more costly than expected. So what's new!!! In early August, a crew came and filled in the outdoor, metal steps to the second floor with concrete that matched the red brick. Then we realized we had enough money to frame in the sacristy area and the rooms upstairs. When we let our busy contractor know this, we found ourselves on the framers' five-month waiting list. Due to the weather, rain mostly, they finally framed in the rest of the interior on January 26-28. Now we have a better vision of what the rooms will look like, which, as it so happened, brought us to a problem. The wall of one of the upstairs bathrooms ended one foot into a window due to a miscalculation (not the framers' fault). For a while, we thought that we would have to move the window, not something anyone wants to do on a brick and concrete block building even though it can be done. In showing a visitor the building as well as the problem, she simply said, "Why don't you move the bathroom wall back a foot?" That was a "Wow! I could have had a V8" moment. We've been told by people who have been involved in building projects, both home and commercial, that these kinds of problems are normal and to be expected.
Since we are considered a church and a monastery, we are literally overwhelmed by building regulations. While we would have liked to have built the whole building at once, we realize that only having the money to get this far was God's way of slowing us down to work out problems and make better decisions that will positively affect the entire project.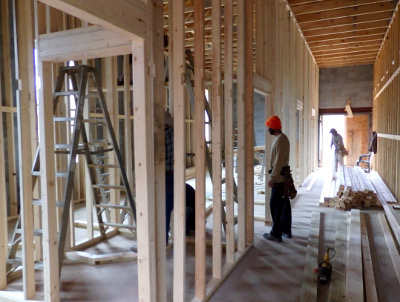 Currently, we've given the go ahead on ordering and installing stainless steel vents and crawl space doors. They will be primed and painted a color to match the brick. This will give three sides of the building a more finished look.
In obtaining quotes for roughing in the electrical, heating/air conditioning (HVAC), and plumbing, we heard the numbers in utter disbelief. Once again, we reminded ourselves that God is in charge. We have to remain faithful, practice patience, and keep doing what He gives us the ability to do towards this goal. "So, what are the quotes," you say. Electrical estimates will be forth coming in the next week or two. The HVAC estimate is $93,500 which includes some of the equipment. Roughing in the plumbing is around $50,000. Remember, this is a big project, and we're paying when we have the money to pay for it.
Whenever we give tours of our monastery and arrive at the chapel, we explain that we had hurricane windows installed to protect the future stained glass windows. They will be done in an iconographic style and portray Saint Anna with the Theotokos, Saint Martha of Bethany, Saint Mary of Bethany, Saint Thecla, Equal to the Apostles, Saint Lyubov of Rayzan, Fool for Christ, and Saint Olga of Alaska One of our visitors seriously said, "Find out how much they cost, I'd like to buy all of them." Little did she know how expensive stained glass windows are.
This request led to our praying for someone local who could paint and fire stained glass. By God's grace, we found a talented stained glass artist in North Augusta, South Carolina. Gathering prints of the saints listed above along with accounts of their lives, Mother Thecla arranged a meeting with Brenda Verdery-Devaney, the artist. A few weeks later, she called me with a price of $8500 per window. Then, we called the woman wanting to purchase the windows. She chose Saint Olga of Alaska.
A few months later, Brenda had a drawing to scale from which we have been working. Unfortunately, one of her workers and friend of many years became seriously ill and died. Then Mother Thecla was having trouble seeing. So we didn't get back to this project until the first part of February. With a few changes to the drawing, we started making decisions on which types and colors of stained glass to use. Now we are waiting for Brenda to create a water color drawing based on the glass that is available.
We know that the walls in the chapel are only framed in and have much to do before those walls are plastered over. Our contractor has already stated, "I'll board over the stained glass windows before workmen get in there."
Also, we are collecting for the remaining windows and have $3000 for Saint Martha of Bethany with an additional $600 for whomever.
Speaking of stained glass, we were given a sizable amount of it. Some of which may be used for this project.
From July 20-24, the All American Council of the Orthodox Church in America met in Atlanta, Georgia. That was great for us, since it is a three to four hour drive from the monastery.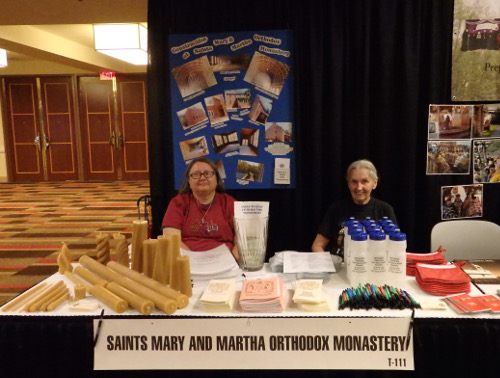 With there being two of us, Mother Helena remained at the monastery and kept the prayers, candle making business, and whatever else was needed going while Mother Thecla worked a display table for our monastery in the vendors' room. Over the course of five days, many people whom we have met and known over the years stopped by to visit. As always, there were numerous new faces and new stories about what God has done and is doing and how the Orthodox Church is growing. It was an honor to meet Saint Olga of Alaska's granddaughter who is also named Olga and is a priest's wife like her grandmother. We are incredibly grateful to those who helped work the display table and provided promotional items to help people remember that we are here and to pray for us. If only we had ten dollars for everyone that said, "I didn't know there was a monastery in South Carolina!"
For the fourth year running, we had a group of girls with chaperones from Exaltation of the Holy Cross Orthodox Church in Greensboro, North Carolina. Each summer, they make coming here a project to help with chores, have time to deepen their friendships, and pray with us.

Knowing that our E-Z Go was in desperate need of repair, we asked a friend who had a trailer if he would haul it to our mechanics, which he did. It was tricky getting the E-Z Go on the trailer and securing it in place as it didn't have any brakes, hadn't had for some time. We didn't know that if you don't keep brake fluid in the brake system, water seeps in and causes them to rust. We do now. Locating parts for a 1997 E-Z Go was a challenge, but they persevered and found them. Now our E-Z Go runs much better, but, as it has always been, is cold natured.
Our monastery overflowed with clergy wives at their retreat near the end of September, fourteen plus one infant. Their topic this year was "The Theotokos".
Not having money for speakers, each year they pick a topic, divide it into four or five sub-topics, and ask different members to speak for an hour or so on each. While technically not a clergy wife, Mother Thecla was asked to speak on "Titles of the Theotokos". Fr. Adam Hortsman from Saint Anthony the Great Orthodox Church in Rock Hill, South Carolina, served Liturgy on Sunday for the women. It is always good when the clergy wives end their retreat with Divine Liturgy.
With dire warnings of torrential rains and possible flooding before the weekend of October 3rd and 4th, Fr. Thomas Moore of Holy Apostles Orthodox Church in West Columbia, South Carolina, ventured forth and served Liturgy here. About fifteen attended, but everyone was nervous and left shortly after repast. That was the night the heavens opened up and poured eighteen inches on Columbia and points east of us, thus causing major flooding and damage. We, being on the sand hills and usually receiving less rain, only had ten inches. Not having watched the news on Sunday morning, we received two phone calls letting us know that the governor was asking everyone to stay home if possible. That was a rare Sunday, indeed. We did not experience any flooding ourselves, but part of Spinner Lane was a few inches under water. In the weeks after this disaster, friends and family called to see if we were all right and if there was anything they could do to help us. Even now, we are still hearing about the great outpouring of people, both local and from afar who aided those affected by the flood.
The next weekend, a work group from Holy Transfiguration Orthodox Church in Morrisville, North Carolina, were scheduled to come. Having heard of all the flooding and possibly more rain on Saturday, they were ambivalent about traveling, and rightly so. The ones who journeyed here camped out behind the Barne Shoppes. Thinking that this time the weather man might be right, they packed up the tents and camping gear before Matins and breakfast. The sky opened up, and it rained for most of the day. They cleaned the floor-to-ceiling windows that are on three sides of the front porch of the Barne Shoppes, made a good start on painting the ceiling in the Hermitage, and helped clean up the inside of the new building. The children enjoyed using the push broom to sweep the floors of the new building, because they could run fifty feet non stop. They also enjoyed having an excuse to get wet, even when the rain stopped.
The following Monday, a couple came to help with whatever needed doing and continued to paint the ceiling of the Hermitage. While his wife was scheduled to visit the grandchildren for a few days, he decided to return and finish the job. The ceiling is bright and white and makes the Hermitage look much cleaner.
With all the rain, we made an inspection of all of our buildings and found that three of them had roof problems. We knew that the skylights in the doublewide needed sealing, but we found leaks in our warehouse and in the Barne Shoppes. Our roofer came out toward the end of October and fixed everything.
About two years ago, Mother Thecla took weaving lessons from Mary Scott of Serendipity Farm and Studio, now in Leesburg, Florida. For some time, we had been making payments on a used Leclerc Colonial V2 45" eight harness traditional loom. Half the payments came from a dear friend. On October 23-24, Mary delivered it, and we assembled it. Oh, now to have time to weave the blanket that is warped onto the loom.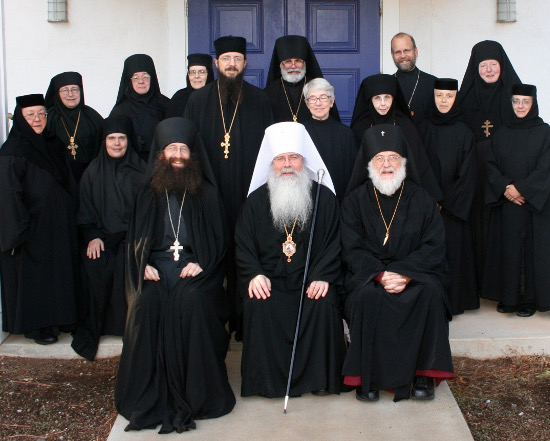 As if October wasn't full enough, the month ended with the Synaxis of the Monastic Superiors which was hosted by the Monastery of Saint John of Shanghai and San Francisco in Menton, California. There were fourteen monasteries represented with Metropolitan Tikon presiding and Archbishop Benjamin, in attendance. It was truly a blessing to be with one another and discuss matters of importance to us and to realize that we share many of the same problems, one of which is dealing with the "ME" culture of today.
For twenty years now, we have loaded up the stuff given to us to sell and schlepped to the Barnyard Flea Market. This year we filled five tables. If we had not had help, we could not have managed it. It was one of our busiest Saturdays ever. At the end of the day, our net proceeds were $777.84 for the building fund. The best part of the day was selling Mother Lyubov's body bag.
You see, when she first entered the monastery, she told us that she brought a new body bag in which to be buried. That way we would not be out the cost of a coffin. We stored it with all the other bags in a plastic container and forgot about it until we ran across it while cleaning out the studio to make room for the loom. Not knowing what else to do with it, we wrote, "Unused Body Bag $5" on a piece of masking tape, placed it on the body bag, and boxed it up with the other items for sale. When flea market day came, we placed it in a predominant spot on one of the tables and watched to see who would buy it. People would pick it up and say, "I've never seen a body bag before." Or, if they did not see the piece of masking tape, they would unfold it and comment, "It's an American body bag. No signs it has been used already." Knowing that it was a body bag, some would ask, "What would we use a body bag for?" At one point, an older man remarked, "I've been coming to flea markets for over thirty years, and never have I seen a body bag for sale!" Around one o'clock that afternoon, a young man who was of a kindred spirit with Mother Lyubov, picked it up, mused about it for several minutes, then said, "I could use it as a sleeping bag, or to protect things on camping trips." He bought it. We hoped that Mother Lyubov was watching and enjoying all this as much as we did.
When Mother Lyubov took her children camping, she placed a body bag on top of the car, filled it with the camping gear that didn't fit in the vehicle, and used the hand holds to tie it to the bumpers. By the way, we buried her in an Orthodox Christian casket made by Daniel Kowalcheck.
Thanksgiving was rather quiet this year. As is our usual, we remembered to give thanks to God with the rest of America, attended Liturgy, and later had a really good meal. It is so important to remember to thank God every day.
Hardly had we finished putting away what was left from the flea market, when we started preparing and packing up items to sell at Saint Nicholas Festival which is held on the first Saturday of December. This year we had enough pears for making wine. It was available at the festival, and there is still some available. After many years of use, we had to purchase a replacement top for our tent. Since it had rained four years running and the tent top leaked, it was time. This year the day was beautiful, a goodly number of people turned out, and sales started early and were brisk. Our jewelry sales were just over $1600. Having purchased wooden toys from a local craftsman, numerous lovers of simple toys snarfed them up. The net income from these sales also went to the building fund. Several people gave us some really nice items to sell with the condition that the proceeds go to the building fund. Little by little, it all adds up.
For about seven years now the refrigerator has made rather loud, farting sounds which is an indication that the compressor is failing. In pricing a replacement refrigerator, we found that it is cheaper to purchase a larger one rather than the small one that fits the space provided for it in the doublewide trailer. This meant taking out part of a decorative wall and a small kitchen cabinet. After waiting several months, the man whom we had asked to do this work finally had the time. Now, when the refrigerator finally dies, we're ready. For twenty years we have needed a larger refrigerator.
Sometime late last fall, five chickens wondered onto our property, discovered the bird seed, and decided to stay. That worked well till we adopted Galicia, a ten-month old border collie, from an individual. We thought that border collies and collies were similar breeds. - Wrong! She chased anything that moved including our cats. It didn't take long for us to realize we had made a mistake and started looking for a suitable home for her which we found through a friend. The cats had three weeks of bad hair days. The chickens went back across the street. Galicia, now Gracie, has a dog-only home with playmates, one of whom is a border collie. Thanks be to God.
We are ever grateful when individuals, couples, families, or groups volunteer to help with the upkeep of this monastery. There is so much to do that we keep a continuous "To Do List". With all the rain over the past eight months, it has been difficult to accomplish anything outside. Our list consist of mostly outdoor jobs.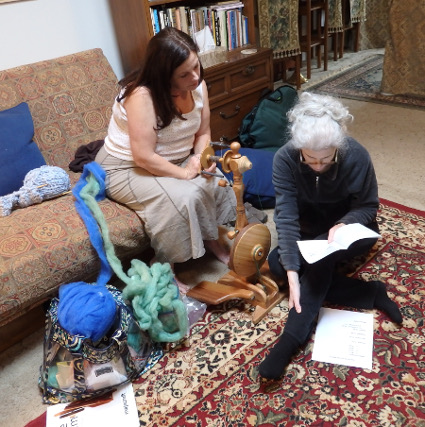 In addition to the tasks that have been mentioned earlier in this newsletter, a wooden rocking chair was painted deep blue, our paths through the forest were raked, the orchard floor was also raked, the paths around the doublewide were cleared several times, and many other tasks were accomplished.
Even without a current newsletter, we received many Christmas donations, most of which added to our building fund. While we know that we cannot build this monastery by ourselves and that God inspires many of you to support us in this endeavor, we owe all of you a debt of gratitude and continue to keep you and yours in our prayers.
Knitters met here for a retreat on February 19-20. While seven people were signed up, four attended. The picture shows two of the knitters assembling a spinning wheel. It was a brief time to withdraw from the world, but was greatly appreciated by all.
Since we started our candle business sixteen years ago, we have never been able to keep a stock of the 3/8" tapers, our standard prayer candle. Candle orders abound, and we thank God, whom we know is our sales representative.
February 22nd marked the third anniversary of Mother Lyubov's repose in our Lord. May her memory be eternal.
Pray for vocations.